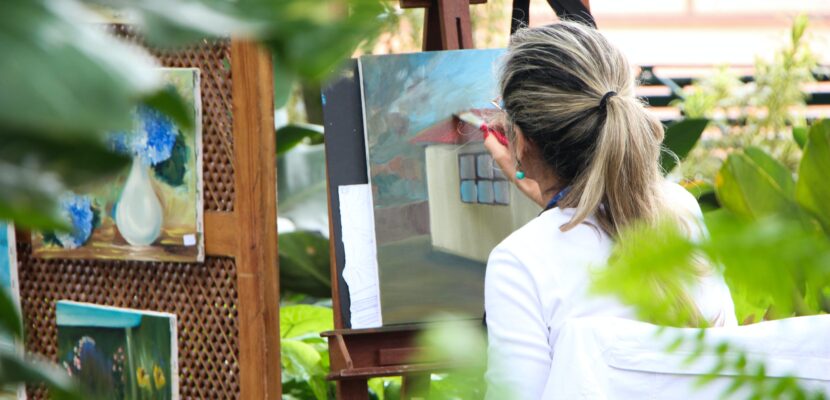 Lifestyle
Why Protect Your Artwork
Mark Edwards ·
0 Comments ·
May 27, 2022
In the past 10 years the artwork market has become a global phenomena. The United States, China and the UK still account for the most of the sales when it comes to artwork, but the actual artwork itself is going global and that's thanks mostly to social media and its influence. With more outlets for artists to be able to advertise and showcase their work, more artists are brave enough to step forward and show what they can do. As there is an overall increase in sales, with online sales also continuing to increase, there has to be something in place for you to be able to protect your art.
Both male and female artists are gaining attention and this is exciting! You get a chance to show your hobby and your skills and you can do so with the idea that you'll even be able to sell your art and earn some cash when you do. It's an exciting way to earn a little money for a hobby you once started that has now grown into something tangible as an income. There are many artists out there, though, that do not fully insure their collection with La Playa Insurance or any other company. Insuring your artwork is important because once you have it valued, you want to know that the value will count to others. 
Some artists out there take great pride in realizing the worth in their talent and they put those pieces into an insurance policy. It's vital that they insure their pieces so that they can be covered if they are stolen or damaged in any way. There are still too many artists not realizing that they can insure their work and make it so that they can be paid in the event something goes wrong. It's so important that you fully insure your artwork. If you don't believe that you need insurance for yours, then you should reconsider. Here are some of the reasons that you should be looking to protect your artwork:
Your home insurance may not cut it. Let's say you end up with a fire in your home and your artwork that you have been working on for a few months has been trashed and it's not something you can recover. What do you do? Well, if you're uninsured, you have to swallow the loss and lose your months of time put into your work. If you're insured, you can claim with your insurance – but not your home insurance. You cannot always

claim for artwork on home insurance

policies unless yours specifically says that you can. If the home insurance doesn't cover your art, then you need to think about the fact that you have to buy extra insurance on top. Some insurance companies cover fine art pieces as an extra, and this is the kind of extra you want to pay for!

Some policies provide more than cash. Your art collection doesn't have to be complicated to care for. In fact, if you are unsure how you can care for your collection, getting some advice from an art collector and valuer can help. You want to find an insurance company that can offer you this consultative service if possible, because they can advise you on the type of coverage that you really need.

Replacing lost and stolen pieces

. If you have had a piece of art stolen, or you've traveled with it and it's become lost, then you want to replace this art. If the market value of an item is high, you want the insurance company to do this. Covering your art and replacing the money you spent creating it can make a difference and it'll feel better to know that you haven't wasted it all.

The art is damaged. Some artwork you might have had in storage can become damaged or covered in mold from time to time. The right insurance companies out there will be able to cover you and ensure that you can afford the restoration. Some insurers will risk assess and ensure that you can avoid damage to your artwork and they can use infrared to detect any damaging environmental conditions. You can't just shove your artwork in the back of the closet and hope for the best. You have to look after it – it's so important! 

The art has broken. If your

artwork involves clay

or glass and it smashes, you will find that the right insurance policy will cover you for breakage. Some policies can also cover you for up to 90 days for newly acquired artwork. You can get the coverage and resources that you need to protect your investment against further loss.

The art is broken in transport. If you have sold an artwork piece and you want to get it to a new place, you might consider insuring yourself for sending the piece. Artwork can and does get lost in transport, and you should want to vet your art transporters so that you can trust the people you use. Moving your artwork is vital if you have sold it overseas and as artwork can be globally renowned, you'll be able to find plenty of options for insurance with travel and artwork.
Protecting your art is smart. It's a smart decision to protect pieces that are decorative and your artwork and your sculptures should be there. With the market continuing to grow, you should ensure that you are putting your money where it should be to protect your stuff. If your art is stolen or broken, damaged or smashed, insurance can cover you – and this is what you need. You are putting time and effort into your hobby and that deserves both compensation and recognition. Fine art insurance can give you the finest protection and you can then find a streamlined service.
Choose to protect your talents and you will find that you are in a good position to continue to grow in confidence with your artwork.