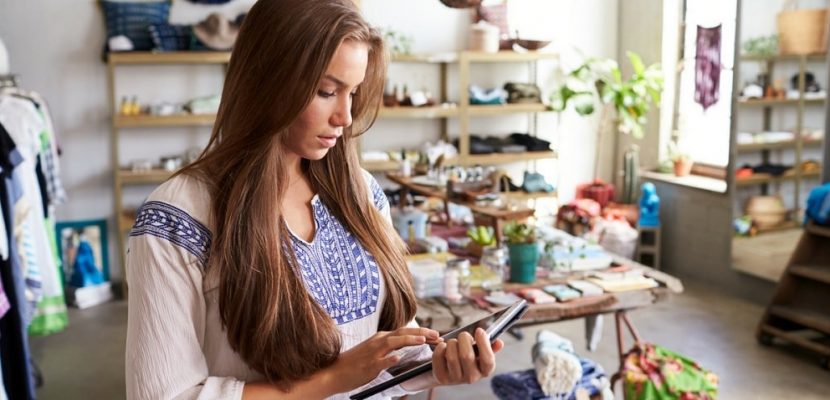 Online Business
4 Ideas on How to Boost Small Retail Business with Technology
Mark Edwards ·
0 Comments ·
April 23, 2018
Despite the rise of eCommerce 94% of retail sales still happen in brick-and-mortar stores, so your small shop has good chances of succeeding. However, those chances will get even better if you use technology to augment the store. The solutions available today can both increase the efficiency of your business and boost customer satisfaction, which will bring more buyers to your door.
How to Boost Small Retail Business with Technology
1. Use beacons to send out coupons and special offers
Beacons are tiny pieces of hardware that enable a retailer to connect to prospective customers' smartphones when they are in the vicinity and send out pre-set messages. In simplified terms, the technology works like this:

You can use this tech in order to send out discount coupons and information on special offers. As it works through proximity, your chances of making a sale increase greatly because your customer is right there.
To use it most efficiently, make sure to write up short messages that prospective buyers won't be able to ignore. Be sure to add words like 'limited' and 'only for you' as people love feeling special and getting exclusive offers. At least this is what studies of consumer psychology say.
1. Set up a POS terminal for boosting efficiency
POS (Point-of-Sale) terminals make registers redundant and simplify your bookkeeping by a great margin. For a small retail store this technology is a tool for improvement in finance management as well as a booster for customer experience.
Merchant Account Solutions is one of the companies specializing in producing these tools and it runs a deal that proves exactly how confident these businesses are in their ability to boost your store with their tech. The company offers to pay back $500 dollars if their terminals won't be able to save you at least $500 of your current processing costs. As a small retail store owner, you should understand perfectly what kind of huge difference such a boost can give your business.
Clover Station is one of said terminals and it can process any type of payments with lighting speed. This results in a boost to your customer service as people will be more satisfied with their experiences in your store.
The best thing about modern POS technology is that it can be integrated with other solutions, like CRM (customer relationship management) software. This will add information on purchases to your customer data and provide you with more opportunities for improving your business after all that data is processed.
2. Make your store smart with IoT
IoT (Internet of Things) technologies can make not only your home more responsive, secure, and energy efficient. Installing them inside your store gives you multiple opportunities to gather some data and enhance positive customer experiences.
Just imagine, you can enable voice search in a smart hub and have the system direct shoppers to the shelf they need. You can also install sensors that will analyze number and lingering time by displays and therefore allow you to evaluate their effectiveness.
Don't forget about solutions like smart lights and locks that reduce energy waste and increase the security of the shop.
3. Get an interactive window display
This solution is on the expensive side, but it's a fantastic way to bring customers to your store. You place a display outside so passersby can browse your shelves and even make a purchase without even entering the shop.
This tech can be used for advertising time-limited offers and displaying new products. You can check out this specialized website to see the solutions and designs top brands use for their interactive displays. And then look up for more affordable technology to realize some of the inspirational ideas you are sure to get from there.