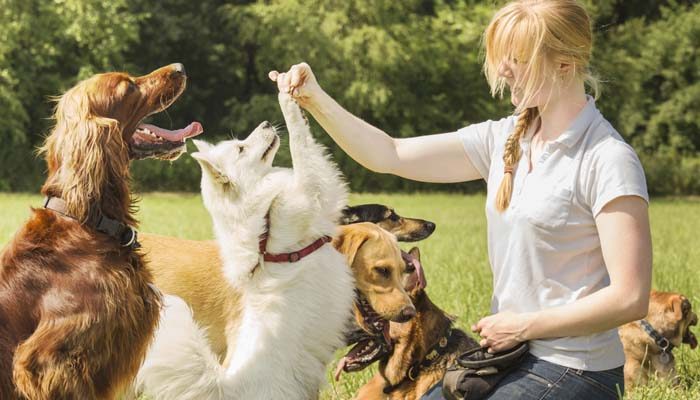 Career
The Benefits of Pet-Sitting as a Side Hustle
Mark Edwards ·
0 Comments ·
January 9, 2018
There are two types of people: Dog lovers and people who haven't met the right dog.
Okay, fine–there are plenty of other animals to love. The important thing is giving their companionship a try. Pets can be enormously beneficial for mental, emotional, and physical health. And since pet care is also a major industry, you'll quickly realize that there's a side gig that can improve your life and your bank balance.
Nearly anyone can join the ranks of professional pet-sitters, and it's not hard to get started. If you have prior experience, great! You're ready to go. If not, try volunteering at a shelter, or offering to watch your friend's pet for free. Pay close attention to the instructions you receive and to the pet's body language, and learn as much as you can by reading and observation.
These are the benefits you'll discover on your journey:
#1 Animals Have Things Figured Out
You don't see dogs having midlife crises, or cats disintegrating over questions of self-worth. While they may not be perfectly content every moment of their lives, their priorities are simple. Could it be that the deep, lasting connections pets make with human and animal friends give them something we often overlook? Spending quality one-on-one time with a pup can give you a new appreciation for everything life has to offer–and a genuine way to enjoy it.
#2 They Like to Move It, Move It
It can be hard to motivate yourself to go for a walk or run for no reason whatsoever. But ensuring that a pet gets proper exercise is a whole new ball game. And speaking of ball games, you'll also be engaging in lots of playtime! Fetch, tug-of-war, wrestling… you name it, and your new friend will probably want to give it a go.
#3 Unlimited Flexibility
Pet-sitting is one of the most flexible jobs in existence. It can be done in your home–or the owner's. You can commit to overnight care–or daytimes only. You set your own rates and availability. Best of all, there's plenty of downtime, which means you can still do other work–whether you hold a traditional 9-to-5 or work freelance from home. Stay-at-home parents, students, and others with unpredictable schedules love the steady income and endless benefits of pet-sitting, whether they take on regular gigs or stick to occasional one-offs.
Long story short, pet-sitting is like having your cake and eating it too–and gaining healthy sustenance instead of empty calories.
Rover.com, the leading pet-care hub, guarantees a great experience. You'll get 24/7 sitter support, insurance for each stay, secure payment processing, and lots of guidance. You can even get professional help to craft a profile that will really stand out! Over time, successful sitters can raise their rates and increase their client base. Who gets lucky enough to be paid to hang out with their best friend? It seems too good to be true, but Rover can help you make your own luck–and lead a better life.
P.S. Many thanks to Nat Smith, Rover.com community member, for providing this material. Rover is the nation's largest network of 5-star pet sitters and dog walkers.