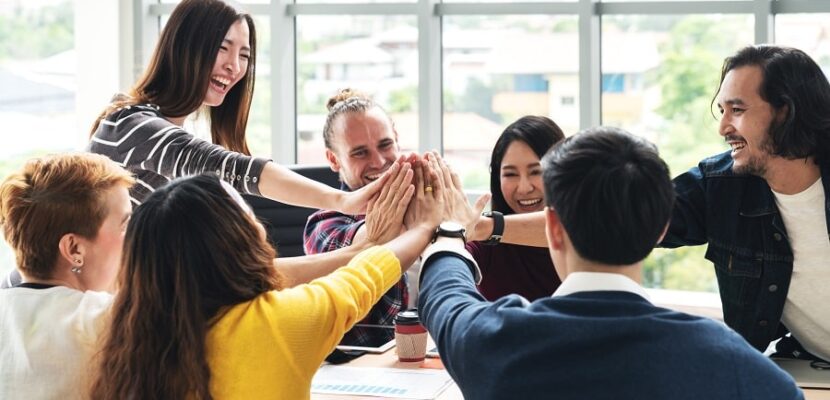 Management
11 Ways to Empower Your Team
Mark Edwards ·
0 Comments ·
February 9, 2022
Business leaders cannot succeed without a strong and talented team. If you want to succeed as a company, it's important to invest in your staff. Running a business isn't easy, you know that you've got to support your employees, but you may not know exactly how to do it.
#1: Set Goals Together
If you'd like to empower your team, it's a good idea to set goals together. Ask your team members what their aspirations are with your company. Help your employees to set goals. You can work together to break these goals into smaller aims. To get started, you might ask your employees these questions:
How do you see yourself progressing within the company?
What can we do to support your career goals?
Do you feel there are gaps in your skillset?
What kind of training can we provide to meet your needs?
#2: Offer Feedback
If you'd like to empower your team, it's a good idea to offer plenty of feedback. When you provide feedback you can help your employees to address their strengths and weaknesses. When you're providing constructive feedback, it's important to tread carefully. Focusing too much on areas for improvement can leave staff feeling discouraged. Ensure that you offer plenty of positive praise.
#3: Support Well-Being
When you run a business it's incredibly important to support staff well-being. To help you do this, there are lots of different types of corporate wellness software. Additionally, you might create a well-being team within your company. There are many benefits of focusing on staff wellbeing including:
Ensuring that your staff avoid burnout.
A fantastic way to boost staff morale.
Happy staff are productive staff.
Builds a strong company culture.
#4: Provide Great Training
If you want your team to thrive you need to provide them with the best training. There are so many benefits to offering a highly effective training program including:
Training opportunities help you to keep the best talent, and reduce staff turnover.
Well-trained staff offer great customer service, which improves customer loyalty.
When you invest in your company it's easier to grow and scale your business.
Helps you to create a culture of learning.
#5: The Right Equipment
If you want your team to succeed you need to ensure that they have the right equipment. Whether your employees work from home, or in the office they'll need high-performance laptops and the best software tools. If your staff are working on a Macbook laptop all day, it's worth knowing how to optimize the battery life. There are various ways that you can manage battery charging, for example, by using special apps.
#6: Projects in the Community
If you'd like to help your team grow, you should help them to give back. Your business can be used as a platform to support charitable causes within the local community. You might support green charities or social justice organizations. Involving yourself in community projects is a great way to give back and improve your reputation.
#7: Create Autonomous Teams
Empowering your staff is about allowing your employees to take ownership of their projects, and make their own decisions. Micro-managed staff often lack job satisfaction and can become quite stressed. There are so many benefits of autonomous teams. First of all, they can be easier to manage, secondly, autonomous teams can save you plenty of time as a company. Building autonomous teams is about taking an opposite approach. When you're striving to build autonomous teams, here are a few tips:
Establish a vision, and communicate this effectively to your team.
Work on taking a step back.
Ensure that your team has the right software.
Selecting the right collaboration and project management tools make it much easier for teams to achieve their goals, without the avalanche of unnecessary emails and meetings. The Teamhood Kanban Board gives a visual overview of any project, allowing teams to see the status of a project at a glance.
#8: Employee Recognition
One of the best ways to empower your team is to focus on employee recognition. When you recognize the efforts of your employees you'll improve their performance, and create a strong company culture. If you need some ideas for employee recognition, you could try using employee engagement software. Here are some general ideas about how to recognize the hard work of your employees:
Provide personalized perks.
Celebrate employee achievements.
Try peer recognition schemes.
Offer workplace rewards (vouchers, workshops, etc).
#9: Tech Tools
Supporting your team is about giving them the tools they need to succeed. There are plenty of tools that can empower remote teams. A few examples include project management tools, communication tools, and productivity software. If your team is working remotely, it's incredibly important that they have access to the right software. When you're working from home, these are some helpful tips for success:
Create a schedule, to improve time management.
Take regular breaks, to boost productivity.
Optimize meetings as much as possible.
#10: Reflect on Your Leadership
If you want to support your team it's also a good idea to reflect on your own abilities as a leader. Make sure that you're learning new things all of the time. When you're developing your own skills, you're in a much better position to empower others. There are many different ways that you can improve your leadership skills including:
Take a leadership course.
Learn using documentaries or podcasts.
Network with other business leaders.
Get yourself a mentor.
 #11: Challenge Your Team
When you challenge your team you'll help them to improve their skills. Test the abilities of your staff, and invite them to reflect on their progress. Self-reflection is a fantastic way to assess progress and improve. As your staff improve their abilities, they'll feel more confident to rise to challenges.
As you can see there are so many different ways that you can empower your team. When you give your team the right tools and skills, they are far more likely to succeed. Staff recognition is one of the most important things, unless your staff feel valued, they are unlikely to thrive. Investing in your staff is the best way to expand your business.